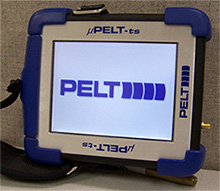 Download Brochure

µPELT-ts3H : PELT® Multi-Layer Ultrasonic Thickness Gauge
The PELT®  model µPELT-ts3H is a multi-layer thickness gauge that can measure up to 3 layers simultaneously with excellent accuracy using High Energy measurement techniques.

PELT gauges use state-of-the-art ultrasonic technology and product design, resulting in unparalleled precision and accuracy.

The unique capabilities and outstanding performance of PELT gauges have made them the standard coating measurement tool in demanding paint shops around the world.
Features
Measures thick, soft or attenuative coatings on any substrate
Measures coatings on textured or grit-blasted substrates
Color touch-screen display
Improved measurement precision from lower noise ultrasonic waveforms
Compatible with existing PELT calibrations and waveform files
Instantly measures up to 3 layers with a single measurement at each point location
Reports individual layer thickness and total thickness at each measurement point
USB interface for fast, reliable data transfer
Non-destructive measurements eliminate the need for specially prepared samples or destructive analysis
Measures most coating types from composite metals to waterborne paint
Host PC Software
PELTManager™ software is a Windows® application that provides a powerful and easy to use interface to the µPELT-ts3H.  Calibration information and measurement data can be easily transferred to/from the gauge.  Use of the Autogage2 automation feature both saves time by automatically processing large batch files and improves measurement precision.
Data Reporting
Thickness data from the µPELT-ts gauges is stored in a format that is easily imported into many popular spreadsheet and database programs. 

The optional film build reports display coating thickness on customized product silhouettes or as charts showing thickness vs. location.  Film Build Reports depict one coating layer per Excel™ spreadsheet. (Microsoft Excel® required)