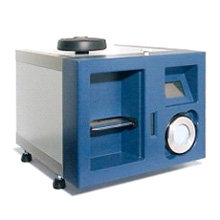 Download Brochure

GINTRONIC Easyperm 650
Economical and easy to use Water Vapour Permeability Tester using Dynamic Relative Humidity Measurement. The complete automatisation of the measuring process prevents any influence of the user to the result. GINTRONIC Easyperm 650 is perfect for process and quality control.
No carriergas required.
Conforms to ASTM E398-03 and ISO 15106-1
Sample surface: 50 cm²
Measuring range: 0.03-10'000 g/(m² *d)
Microprocessor controlled
Integrated Touchscreen display, shows actual operating conditions
In the measuring chamber integrated temperature and humidity sensor with direct digital signal
Automatic control of the flow of dry air dependent on permeability of the sample
Windows® based PC - Software:

Storage of calibration data
Re-calibration unnecessary with method change
Storage of measuring data
Method and sample definition
Applications
Quick and easy determination of water vapour transmission rates of polymeric films and other sheet materials by using Dynamic Relative Humidity Measurement.