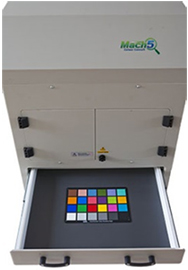 Download Brochure

Mach5 Colour Instrument
For accurate colour measurement with hyper spectral imaging technology.
Product Description:
The Mach5 is a laboratory camera based color measurement instrument. It can measure multiple areas and multiple colors in one scan of any object placed in the drawer of the instrument.

The Mach5 instrument can like a spectrophotometer measure colour accurately but has the advantages of a camera.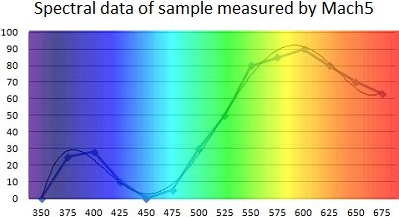 Compared to Spectrophotometer:
The Mach5 can measure multiple locations, large or small
With the Mach5 people can work faster than with a spectrophotometer
The Mach5 can measure various colours at the same time
The Mach5 can give information about the area, eg. standard deviation of the colour in that area
The Mach5 is very easy to use
The Mach5 can be customized to a specific industry
The Mach5 can read barcodes to identify products
The Mach5 stores images to review later in case of a dispute
Like a Spectrophotometer:
The Mach5 gives you accurate colour values in L*, a*b* and X, Y, Z (or your own colour model on request).
The Mach5 is easy to calibrate
Industries:
The Mach5 can be used in any industry where colour is important as a product enhancer or as a process control indicator.
Like: Food, paper, plastics, textile, paint, detergent, packaging, tobacco, ceramics, building materials, pharmaceutical, and more…
Benefits:
Guarantee your customers a high and constant colour quality
Work faster by measuring multiple areas in one scan
All measured data, including a product image is saved on the pc for retrieval later
No more human errors during visual inspection