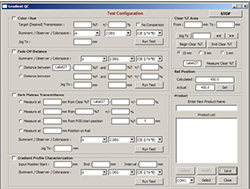 Download Brochure

Glass / Clear QC Software
A highly specialized QC software for glass and clear laminate application has been developed by Premier Colorscan.
The system consist of Reflectance / Transmission spectro with micro processor controlled motor rail system fitted with vernier scale for mounting of glass laminate.
The motor system is controlled by the Color Matching Software.
Color Gradient Test:
Determination of X,Y,Z, L* a* b* YI of lamination from "clear % T (Y)" to a "specific % T (Y)" at a fixed interval
Fade - off - distance:
Determination of distance between a predetermined starting % T (Y) and End % T (Y)
Dark plateau test:
Finding the darkest spot in the laminate
Color / Hue test:
Measurement of typical color parameters at a predetermined distance on the laminate and comparing it with a standard
TUV content:
Determines total UV content as per ISO and other methods
Polarization Index:
Determine the extent of polarization of glass at 0° & 90°
Color and strength:
Measurement of standard color values i.e. X,Y, Z, L*, a*, b* YI in different illuminants and observers
Equal % T (Y) strength:
As above, but expresses color difference when % T (Y) is equalized
Color formulation option
Typical Hardware:
Hunterlab USXE, USPRO & CQXE
Rail system with vernier scale
Microprocessor controlled stepper motor
Typical Application:
Glass
Clear laminates
Wind screens
Six such systems are working in the USA at a industry leader.