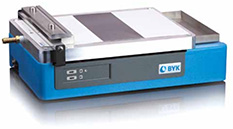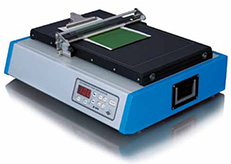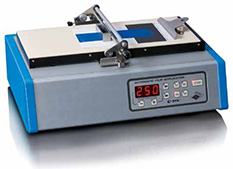 Download Brochure

Automatic Applicators
Byko-Drive
The byko-drive Automatic Applicator is an economical film applicator that improves the consistency of drawdowns. When more than one operator is drawing down the same coating or ink, the dry film appearance will vary because of different drawdown techniques. Drawdown speed and pressure on the applicator tool will impact the result. Film thickness, gloss, opacity, and color can vary with differing drawdown techniques. The byko-drive is available with a vacuum plate or glass plate with clamp. Applicator bars, U-shaped bars, applicator frames, film casting knifes, and wire-wound rods are acceptable applicators. The byko-drive has a compact design consisting of a light-weight aluminum chassis and impact resistant thermo-plastic cover.
User selectable start and stop positions to accommodate different chart sizes
Power assist carriage return for ease of operation
Drip pan for faster cleanup
Weight and bar fixture for consistent pressure on applicator devices
Small footprint to save on counter space
Easy to operate user controls

Download Brochure
Byko-Drive
Automatic Film Applicator L
Drawdowns made by hand can show irregularities caused by variations in speed and pressure on the applicator tool. The quality of the drawdown will be dependent on the shear rate and the weight on the applicator. Measurements of film properties such as abrasion resistance, hiding power and gloss are greatly affected by the application quality. Using an automatic film applicator guarantees a linear and even movement of the film applicator – repeatable and high quality results are guaranteed:
Precise application speed settable in 10 mm/s increments from 50 to 500 mm/s
Wide range of operating speeds allowing optimum settings of shear rate
Real time display of application speed
Memory function to store commonly used speeds
Constant downward force applied to coated surface
A wide variety of film applicators can be accommodated
Applicators may be used side by side for comparison tests
Wire bar coater attachment included
Solvent resistant touch key panel that is easily cleaned
Built-in vacuum plate with vacuum pump
Two stroke lengths

Download Brochure
Automatic Film Applicator L
Automatic Film Applicator S
Smaller footprint version of the PA-2101 Automatic Film Applicator. The Small Film Applicator has a clipboard only to hold the drawdown chart. The clipboard size will accommodate a 19 x 26 cm (7.5 x 10.25 in) chart. Only one stroke length is available.

Download Brochure
Automatic Film Applicator S
more info...